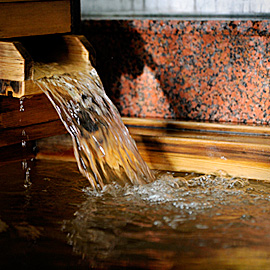 The Hikona hot springs flow through a wooden bath made of all Japanese cypress and faces a small Japanese garden.
For Japanese people, this is the ultimate luxury and extremely soothing.
Fill your body with the fragrant scent of Japanese cypress while being soothed visually by the tranquility of the green Japanese garden.This will bring your mind and body, made tense by your busy daily life, back to their natural form.
Feel the hot springs with your five senses, take time to relax and heal your five senses, and spend luxurious time in our hot springs.